It is the time for the cardiology fellowship application 2019 again! If you're interested to apply to one of the top fellowship programs, you have come to the post to help you learn more about the cardiology fellowship match 2019 and main cardiology fellowship personal statement writing requirements.
All You Need to Know About Cardiology Fellowship Application in 2019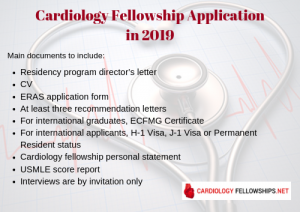 The 2019-2020 Cardiology Fellowship Application Cycle is an exciting start for many aspirants who want to become a fellow in their chosen school.  A few general documents required so that your application will be reviewed include:
Residency program director's letter

CV

ERAS application form

At least three recommendation letters

For international graduates, ECFMG Certificate

For international applicants, H-1 Visa, J-1 Visa or Permanent Resident status

Cardiology fellowship personal statement

USMLE score report

Interviews are by invitation only.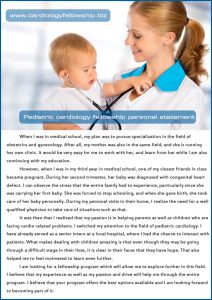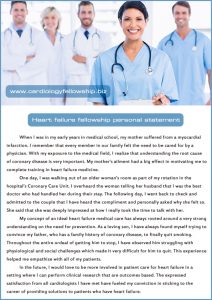 Process and Timeline for Fellowship That Starts July 2020
June – the season begins and you can start registering in the My ERAS. You can start applying to the programs.

July 15 – The programs will start receiving applications by this time.

August 28- the NRMP medical specialties will open for the 2020 appointment. The programs and students will start registering for the Match.

September is the application deadline.
For the complete process, you can also visit this link.
The cardiology fellowship application 2019 is a competitive application because thousands of students apply and try to win one of the fellowship slots available. You can stand out by putting your best foot forward in your fellowship documents.
For example,   do your best in writing the personal statement because it is where the screening committee gets to know you first even before meeting you. They want to know the person behind the success deeper. For help, you might want to read some great cardiology fellowship personal statement examples.
List of Best Universities With Cardiology Fellowship Programs
If you are interested in cardiology fellowships rankings, here is a list of the best fellowship programs that you might want to consider when applying.
Western Reserve University (Cleveland, OH): It is one of the best programs for cardiology. Check its website for general guidelines.

Harvard University (Cambridge, MA): It is definitely one of the world's best in this field.

University of California-Los Angeles: It is a consistent school in the world among medicine graduates looking to specialize in cardiology.

Stanford University: One of the world's finest, Stanford offers one of the best in cardiology fellowship.

John Hopkins University: Apply in the competitive program in one of the world's best medical universities.

University of California-San Francisco: It is a consistent top ranked in cardiology fellowships in the world. Visit it for more information.

University of Pennsylvania: Check out its website for the complete application instructions and deadlines.

Washington University School of Medicine: It is one of the world's best in cardiology fellowships. Check it out for complete requirements.

Yale University New Haven: Apply here if you want to become a part of one of the world's best in cardiology.

Columbia University: Visit its website for deadlines and application requirements.
Best Cardiology Fellowships Specialties
Cardiology and Vascular Medicine

Arrhythmia Service

Women's Cardiovascular Health Center

Cardiac Rehabilitation and Exercise

Peripheral Vascular Intervention

Interventional Cardiology

Adult & Pediatric Congenital Heart Service

Pediatric Cardiac Surgery

Valvular Heart Disease

Cardiac Surgery

Vascular and Endovascular Surgery

Cardiac Imaging – Non-Invasive

Cardiac Surgery

Transcatheter Interventions for Structural Heart Disease

Pediatric Cardiology

Center for Inherited Heart Disease

Coronary Care Unit

Valvular Heart Disease

Electrophysiology and Arrhythmia Service

Cardiomyopathy and Heart Failure Service

Valve Surgery
Cardiology Fellowship Personal Statement
Writing the personal statement for the fellowship application is one of the most challenging parts of it all. For this reason, many students look into and refer to cardiology fellowship personal statement samples.
They recognize that the PS is one of the most essential components of the application package. They also know that the screening committee wants more than just a narration of achievements or accomplishments, but they're looking for a unique angle – something that makes the applicant a standout among the rest.
As there are thousands of applications they receive annually, they are looking into something that would pique their interest – the story behind the successful person in that resume.  They're looking for,
Why you deserve to become a part of the fellowship

What your future plans are

Why you think the program is what can help you achieve those

What are  motivations to apply in the program

And other important points unique about you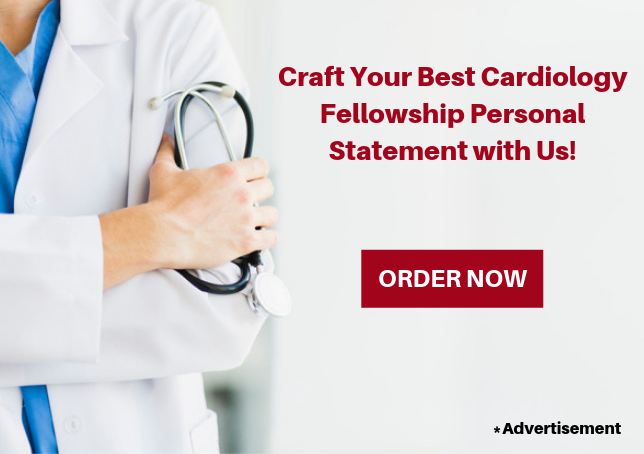 Common Mistakes To Avoid
The best cardiology fellowships are looking for deserving students to become a part of their program. So if you want to make it and do well in the 2019-2020 cardiology fellowship application cycle, you should put your best foot forward especially in the personal statement.
Boring introduction

Poor spelling and grammar

Poor structure

Too generic

Lack of academic focus

Unnatural language and verbose

Too brief statement

Lack of passion

Relisting what's already in the resume

Too much focused in career
Cardiology Fellowship Personal Statement Practical Writing Tips And Tricks To Win A Competition In 2019-2020
To make it in one of the slots in fellowships belonging to high cardiology fellowship programs rankings, you should write the best fellowship PS.
Check out samples for personal statement for cardiology fellowship: Look for online samples that will give you an idea on how to write an amazing personal statement.

Write a customized PS per program: You should not send generic personal statements across schools.

Check for the instructions:  Visit the site of the fellowship program and review the instructions for the personal statement.

Find a storyline for the essay:  Think about an anecdote to tell a story, but make sure it comes with a logical flow.
General Cardiology Fellowship Application Documents
Another way on how to apply for cardiology fellowship and become successful on it is to do well in the application documents.
Letters of recommendation: Ask for them from members of the cardiology faculty.
CV: Be certain it is customized for the application and tailor it based on what each program you're applying for is trying to find.
Personal statement: In order to learn how to write a personal statement for cardiology fellowship, you can check out samples if you don't know how to compose it the first time. You can also refer to earlier sections for more tips.
Winning Cardiology Fellowship Application in 2019-2020
In order to increase your chances for the NRMP fellowship match, you should follow the golden rules.
Do comprehensive program research and about the cardiology fellowship match 2019
Submit excellent Application documents
Starting early
Follow the deadline and ERAS 2019 fellowship application timeline closely.
Follow the IMG cardiology program instructions.
Get started and succeed in the cardiology fellowship application 2019 today!